Sleek, strong and stylish Centurion domestic and commercial sliding gate motors.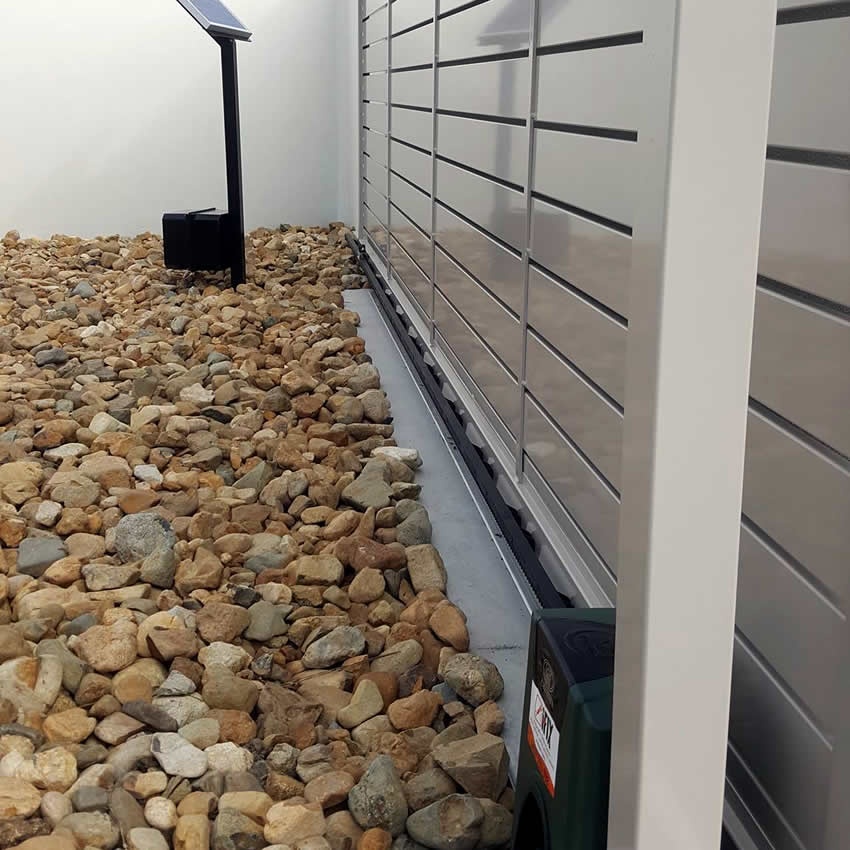 DOMESTIC SLIDING GATE MOTOR
Prepare for your sliding gate to be turbocharged...
A 12V DC battery revs the CENTURION D2 & D5 Turbo domestic sliding gate motor up to 9000rpm so it'll move gates weighing up to 250 (D2) kilograms at up to 24 metres per minute. The D5-Evo is now that little bit faster, opening your average four metre gate in less than 12 seconds, adding even more security and convenience. Now that's fast!
Sleek, strong, stylish – and even eco-conscious – this CENTURION has it all.
The main features of the CENTURION D2 & D5 Turbo domestic sliding gate motors include:
Always on Guard
Reliable battery backup ensures that this CENTURION remains on high alert, come blackouts, brownouts or nights out on the town. When you get home, your D2 Turbo will be standing by to let you in at the touch of a button. For extended standby power you can upgrade the compact 5Ah battery to a standard 7Ah capacity one.
Adaptive Collision Sensing
Even with the High Speed Profile engaged, our advanced Adaptive Collision Sensing system helps to ensure that your car and your family are out of harm's way.
Stylish Design
Small but tough - and good looking too! The D2 & D5 Turbo is a worthy addition to any driveway.
Onboard Multichannel Receiver1
What is speed without control? Map the buttons on the receiver so that any one button on your remote control can either open the gate fully for a car, partially for a pedestrian or activate Holiday Lockout Mode.
1. CENTURION code-hopping
Reliable Operation
Just like every CENTURION product, you can count on the D2 Turbo to look after your home for a very long time. Advanced engineering polymers and smart design combine to create a gate motor that runs for over 30 000 cycles. That's around ten years of moving an average domestic gate!
Lockable, easy manual override
The CENTURION D2 Turbo is strong - so you don't have to be. One quarter-turn of the manual override wheel and your gate's in Manual Mode. A lock-protected mechanism makes sure that it's not so easy for a criminal to do it! The CENTURION D5 Turbo is similiar, with a door hiding the override wheel.
Minimal materials used for construction - almost 100% recyclable
Tested in the factory, in the field, and then tested some more, the D2 & D5 Turbo has been optimised for maximum performance using minimal materials and is one of the first 'green' operators.
Compact, but TOUGH
Built for speed and safety, these babies can quickly and safely move gates weighing from 250kg to 500kg! Such a compact package but such a potent push force.